Care for Older People giving them respect, dignity
As a population we are living longer than our forebears due to amazing advances in healthcare and lifestyle.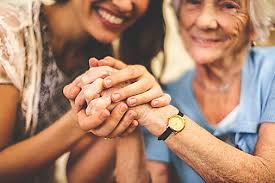 While the benefits of people living longer are self-explanatory and enriching to the social fabric of society at large, there are sometimes unplanned for complications that can develop relating to increased longevity. We live in a fast-moving world where the pace and pressures of modern life can be unforgiving in the demands that are placed on the available time we have at our disposal.  It is vital that we make the right choices and decisions when we are confronted with unexpected changes that can occur to us or to our loved ones as those dearest to us grow older. The changes can be gradual as life is taken at a gentler pace but can also be sudden and can significantly impact on the independence and ability of our loved ones to meet the challenges they may face in these circumstances.
At SSA Quality Care we will help you to choose how to best manage the challenges ahead. Our dedicated team of caring and sympathetic support staff are trained to the highest standards and will ensure a friendly and reassuring home visit service to help maintain your independence and quality of life in your own home and at your own pace.
With your involvement we will produce a support plan that provides a solution however complex your needs may be. We are flexible and responsive and the support plan will evolve to reflect changes as they occur.