People with limited or impaired mobility
There are a host of reasons why people may suffer from limited mobility which can be due to a congenital disorder, or because of an illness or disease, as the result of an accident or simply as part of the ageing process that we all eventually are affected by.
SSA Quality Care has many years experience in supporting people with reduced mobility and we understand how debilitating it can be for those affected in this way.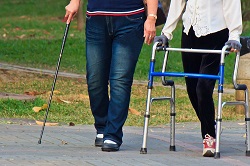 An important aspect of the care assessments that we carry out will be to inspect and evaluate the environment and any existing equipment that may be in use. If necessary, we will call in manual handling advisors to further help assess the fitness for purpose of existing equipment and make recommendations that are in the best interest of the client and their safety.
By taking every precaution and reducing risks to a minimum we help to prevent falls that may result in injury or admission to hospital.