Care for people with physical and sensory disabilities
We understand the daily challenges faced by people living with physical or sensory impairment and our staff are trained to provide support that is personalised to meet the specific requirements of the individual.
We listen to what our clients tell us and actively promote independence wherever possible and encourage service user participation in the completion of personal care and other aspects of supported living so as to maximise the potential for individual involvement and client satisfaction that can greatly enhance the relationship between the care worker and the person receiving support.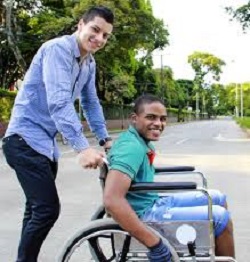 Feedback from our client's and staff also inform us of how important meaningful and effective communication can be for the smooth delivery of a professional service that listens to all people who have a stake in the welfare of the person receiving care.
Consistency and reliability of care staff and a cheerful and courteous disposition towards client's and their families are aims we always strive for and we will not accept anything less in our continuous drive for quality improvement and we regularly review and assess our performance to achieve the highest level of professionalism.